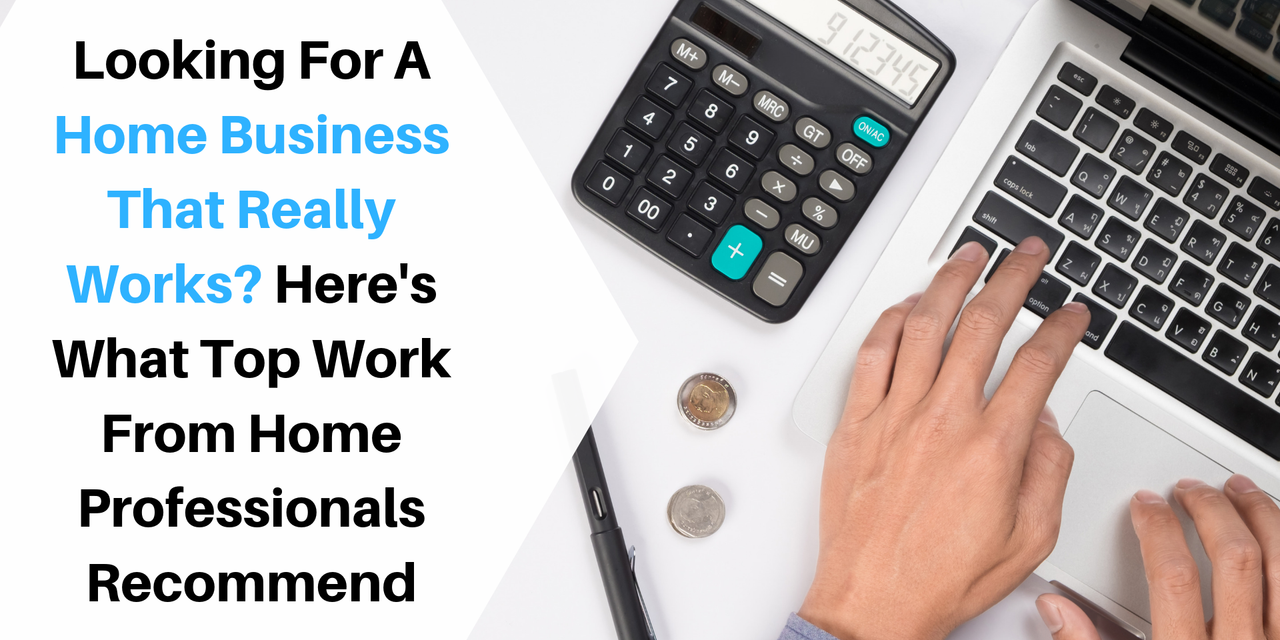 So, are you looking for a home business that really works? Then you're on the right site because Funding Ceo will shower you with the best information recommended by professionals.
These days, for some people having the capacity to work at home gives them the best of both worlds. They have the stability and wage of customary all-day work, without the time, cost, and bother of setting off to an office.
"The more you believe in your own ability to succeed, the more likely it is that you will."
Here, I'm going to tell you about how you can have a home business that really works without having to invest large amounts of money. Many companies and small businesses offer "money based on commissions" jobs to a skillful person who wants to work from home. It has several advantages for companies as well, because they don't have to hire full-time employees to fill in those gaps. Here your home-based business comes into being.
Commission-based options for a home business that really works, recommended by professionals:
NO.1: 
Offering credit solutions:
You can be CEO of your own "funding firm" by offering credit solutions to your clients, including unsecured loans for both individuals and companies, along with credit repair and credit improvement services. In these types of services, commissions are really high and many companies are looking for people who have exceptional financial skills. FundingCEO also gives this kind of opportunity to their clients and allows them to work as the CEO of their own firm.
NO.2:

Virtual Assistants:
Professionals say that "virtual assistants" can earn an average wage of $50,000 and it is a common and easy-to-perform home business that really works, if you have skills. Being a virtual assistant is much like being a regular assistant, who handles any number of small tasks for a business or individual.
Tasks include:
        

Answering emails

        

Managing blogs

        

Data entry

        

Scheduling meetings

        

Answering phone calls

        

Shopping, sending gifts on behalf of the boss, etc.
NO.3:

 

 Marketing Consultant:
"Business has only two functions—Marketing and Innovation".
Without a marketing consultant a business cannot run. These days social media marketing is the most important source of promotion, and youngsters are better at handling social media sites. Companies are paying commissions to social media content writers, bloggers, and freelancers to promote their brand as much as possible. This home-based business can make you earn an income of up to $100,000.
NO.4: 

Review sites:
You might be wondering: WHAT ARE REVIEW SITES?
"A review site is a website on which reviews can be posted about people, businesses, products, or services. These sites may use Web 2.0 techniques to gather reviews from site users or may use professional writers to author reviews on the topic of concern for the site."
This type of hosting is mostly used by those dealing with dating sites, flower sellers, phone companies and all others that require taking about 5 different advertisers, putting them in one site and running a paid search through all those pages that feature different reviews.
The affiliate will earn a commission when he/she refers some business to any of those advertisers, thus making review sites a very large and high-conversion demography of marketing affiliates.
NO.5: 

Freelancing Gigs:
Do you know what a freelancing gig is? Let me tell you!
"A freelancing gig is an affordable freelance services marketplace for small home businesses that really work, self-employed persons, startups, entrepreneurs, and micro-businesses."
You can create gigs easily online, and then you'll be known as a "freelancer," but creating gigs isn't enough. Be professional in the skills you are providing to get better feedback and reviews from your customers, because in freelancing positive reviews can boost your sales. There are many websites where you can connect with your target audience and earn money. But you have to create very catchy and creative gigs for better customers.
 NO.6:

 Gaming Entrepreneurs:
You might be thinking that this is impossible. You're wrong. THIS IS POSSIBLE!
"Impossible is just a word thrown around by small men who find it easier to live in the world they've been given than to explore the power they have to change it. Impossible is not a fact, it's an opinion. Impossible is potential, impossible is temporary, impossible is nothing."—Muhammad Jinnah
Cell phones and social gaming stages like Facebook have given everybody—even you, particularly you—a shot at influencing millions with a hit diversion.
You've heard the stories of Zynga and Rovio: they ascended from humble startup birthplaces in 2007 to wind up the overlords of Facebook gaming with contributions like FarmVille and Mafia Wars, and now flaunt a valuation of $10 billion. The latter is in charge of the Angry Birds iPhone game, which transformed into a multimillion-dollar establishment, with multi-platform applications, extravagant toys, and a film in progress, all inside 18 months.
You can also be a game entrepreneur if you have the right idea, right skills, and dedication.
And Pallam Raju quoted that, "Developing skills is as important as training. A larger effort is needed to create a skilled workplace with employment potential."
NO.7:

 

Graphic Designers:
According to the U.S. Bureau of Labor Statistics, graphic designers can earn an average median commission of $46,900 per year. They also suggest that graphic design home-based business (especially web design) will continue to grow as demand for graphic designers continues to increase with advertisers, publishers, and computer design companies. Graphic designing is one of the most famous home businesses that really work recommended by professionals.
In this case:
        

You can start your own website.

        

You can work with any company from home.

        

You can offer graphic designing services as a freelancer.
Just take some graphic designing courses, practice them, and start working. SIMPLE!
List of more types of Home businesses that really work!
        

Get paid for social media

        

Internet marketing affiliate

        

eBay Sales

        

Amazon

        

Debt collector

        

Representative of call center

        

Blogging

        

Youtubing

        

Grant writing

        

Green consulting, et.
Home-based businesses are not for everyone. You need to have skills and passion to start a home business that really works, and to be successful you should be dedicated towards your life goals and career.
"Don't downgrade your dream just to match your reality. Upgrade your conviction to match your destiny." __ Stuart Scott
This article was written for GrandTetonProfessionalsforFundingCEO.If you like the financial           world and have high ambitions; FundingCEO has the right work from home business for you. With this amazing opportunity, you can make money without being limited by the number of           working hours because you will earn with a base on commissions rather than a wage per hour. Please contact us at [email protected] For Media Relations, please contact [email protected]​.  
KWs: Home business that really works, Home-Based Business