The average household income in America has improved in the last two years. However, it is still 6% less than it initially was when the 2007-2008 recession started. According to Sentier Research, before June a typical American family received an average income of $52,100 per year. This means that most people and families in the U.S are not even close to receiving the 6-figure income per year that is frequently linked to success.
Out of the more than 800 occupations recognized by the Bureau of Labor Statistics' Occupational Employment Statistics Database, merely 30 paid an average income over $100,000 per year. Psychiatrists were projected to be the highest earners but there were little over 24,000 psychiatrists in the U.S in 2012. On the other hand, lawyers made an average annual salary of approximately $113,500, but there are more than 500,000 lawyers in the U.S.
Most of the occupations that are able to earn a six-figure income are executive positions. These positions include managers in sales, engineering, finance, computer and information systems and other key business departments. However, these managers probably have many years of experience in their fields, they have supervised multiple work teams and operations and, consequently, are able to receive a six-figure income. By 2012, almost $6.4 million in America came from executive positions. The average annual income for an executive is a little under $94,000.
Some careers receive a 6-figure income because of the training and education time that is required from them. For instance, lawyers are obligated to study three years of post-graduate school and to pass a state's bar examination test before they can start working. Pharmacists have to finish numerous years of undergraduate school and then they must spend between three and four years getting Doctor of Pharmacy degree. In addition to this, some pharmacists also have to spend up to two years in residency if they wish to apply to some advanced positions
These careers are the most common in the country because of their tendency to pay a six-figure salary, however their popularity is not rising. Actually, the amount of financial and marketing chiefs has dropped by more than 10% from 2002 to 2012. On the other hand, other careers seem more promising. For instance, the amount of information system managers increased by 17% during the same years and the number of pharmacists increased by more than 23%
To define the top six-figure income occupations in the U.S, 24/7 Wall Street checked the average professional incomes from the BLS Occupational Employment Statistics program for 2012, for the occupations that paid more than $100,000 per year. These incomes are approximations that can contain some statistical errors and don't include people that work on their own. The program collects the data for many years but in this case the occupations considered were the ones that existed in the time period between 2002 and 2012. The rest of the information for each job was taken from the BLS Occupational Outlook Handbook.
Here are the five 5 most popular careers that will get you a six-figure income: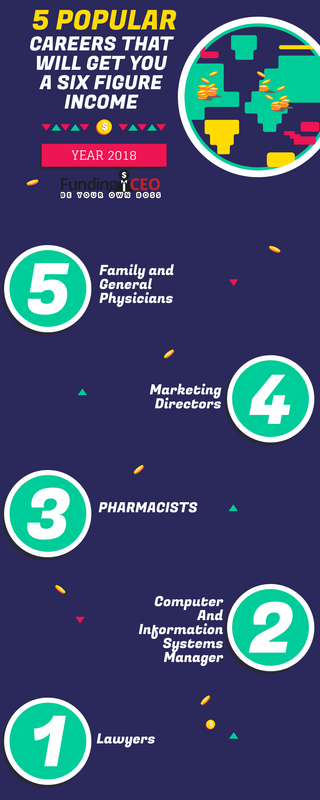 #5.

Family and General Physicians
Family and general physicians are the ones who take care of routine ailments, regular checkups and commend patients to specialists if necessary. Just as any other doctor, they must go through medical school, finish the residency program and obtain a license to practice medicine. General and family physicians benefit from having a stable amount of clients unlike surgeons or any other specialist. By the year 2012, a general physician was part of the group of occupations who earned a 6-figure income and were one of the best paid occupations in the country with an average income of $172,020.
#4.

Marketing Directors
With around 171,430 people employed and an average yearly salary of $119,480, a Marketing Director is the 4th most popular 6-figure income occupation. A Marketing Director must stay on top of market trends and plan strategies that improve a company's sales. In order to become a marketing director, you normally have to earn a bachelor's degree in business administration, economics or accounting, along with statistics knowledge and substantial work experience.
#3.

Pharmacists
As well as with other medical professions, pharmacists are part of the six-figure income occupations because of the amount of training, time and money required to be able to practice. In the U.S, a pharmacist must get their bachelor's degree and study for 3 to 4 additional years to get their pharmacy PhD. In addition to this, if they wish to apply for a research job they must finish a two-year residency. A pharmacists' work schedule may vary and it usually requires that the person works past regular business hours which has an effect on their income. With a growing number of employed individuals totaling 281,560 people and an average salary of $116,670 per year, pharmacists occupy the third position on our six-figure income jobs list.
#2.

Computer and Information Systems Managers
By 2012 the number of individuals employed as Computer and information systems managers was 309,740. These managers are in charge of overseeing the I.T department. Moreover, they must search, execute and supervise enhancements to a company's hardware and software infrastructure as well as guaranteeing the safety of the company's data and network. In return a computer and information systems manager receives a six-figure income of approximately $120,950 per year. In some cases, an I.T manager can become a Senior Executive and produce an income higher than $150,000.
#1.

Lawyers
By 2012 there were more than half a million attorneys in the U.S. Surely this is not a coincidence, given that the average wage for this profession is $113,530 annually. Lawyers are by far the most popular six-figure income earners in America with a population of 581,920 employed and practicing. However, the road to become a lawyer is long and full of hard work. First, one must get a bachelor's degree. Then, it is necessary to go to law school and finally to take and pass a state's bar exam. A lot of sweat has to come down their foreheads for that six-figure income indeed.
Regardless of the career you choose to pursue, you can be a part of the six-figure income club by joining our exclusive FundingCEO Program.
Becoming the CEO of your own business might be easier than you thought with FundingCEO.com leading the way. You can apply now to any of our programs. There's financing available for driven candidates. A six-figure income is within your reach at FundingCEO.com
Keywords:  Top Work From Home Businesses, At Home Businesses That Work, Successful Work From Home Businesses, Work From Home Small Business, Home Business That Really Works,