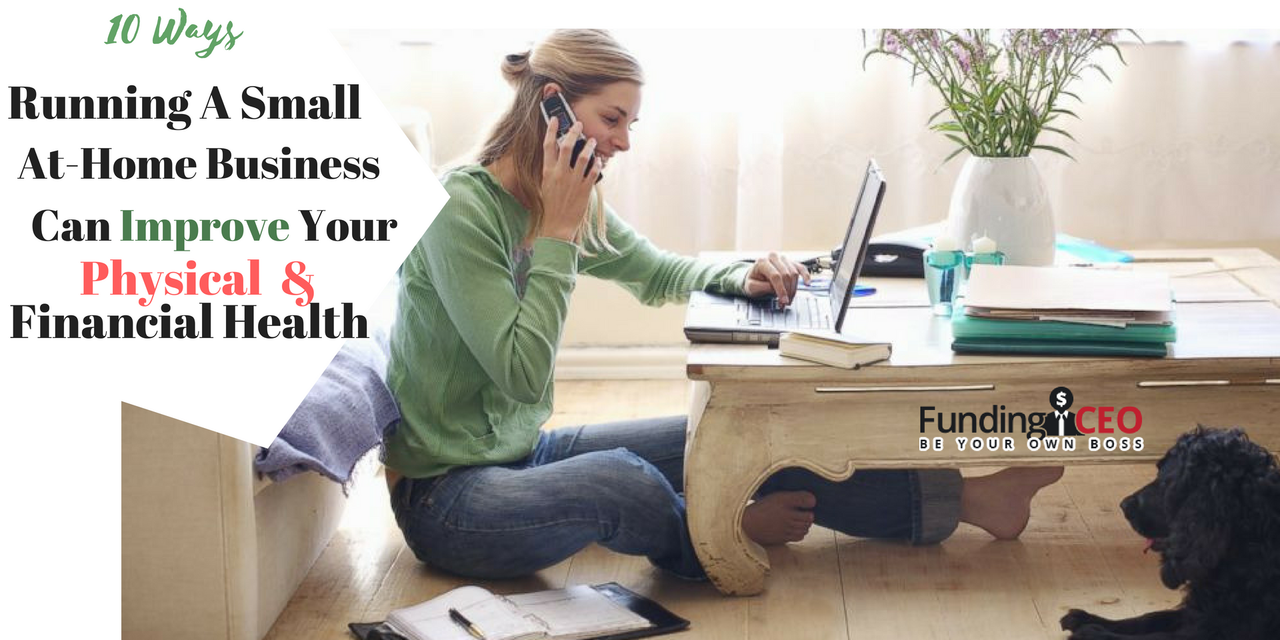 Most people drive or ride public transit to get to work. The average person spends over an hour a day on their commute, and some folks spend twice as much time. Not only does traveling like that on a daily basis cost a lot of money, but it can also cost you your health. With so many work from home opportunities available, it leaves the question open why more are not seeking after work from home opportunities and way to run and manage successful work from home small businesses.
Long commutes are a frustrating part of modern life, but the all that back and forth can do lots of damage to your body and bank account. Luckily, it's possible to offset the damage by engaging in a lucrative homebased business opportunity. In the meantime, consider the following 10 ways running a small at home business can improve your health and financial wellbeing.
NO.1:

Working from Home Prevents Blood Sugar Spikes
Did you know that driving for more than 10 miles a day to or from work has been linked to high blood sugar levels? According to a study conducted by the St. Louis University School of Medicine, the habits we keep during our commute can lead to potentially deadly blood sugar spikes. High glucose leads to pre-diabetes and diabetes, which can shorten your life expectancy tremendously. The results of the study, which are published in The American Journal of Preventative Medicine, suggest that remote jobs are far better for your health.
NO.2:

Homebased Businesses Cut Workplace Costs in Half
When you work from home and run a successful small business, the impact on your bank account is significantly reduced. By saving money on car payments, unpredictable gas prices, car insurance premiums, basic auto maintenance, tolls, and on-the-go meals, you keep more cash in your pocket. Studies by Telework Research Network shows that the average telecommuter saves upwards of $7000 a year because they don't have to leave home to work. Imagine what you could do with all that extra money.
NO.3:

Small At Home Business Opportunities Keeps Depression At A Low
The Cooper Institute in Dallas, Texas noted in a recent study that people with 10-minute or longer commutes typically suffer from depression, anxiety, and/or social isolation more often than those who run successful at home businesses. While the study did not conclude whether those bouts of depression are temporary or permanent, we can all agree that spending lots of time battling traffic jams to get to work can give you a serious case of the blahs.
NO.4:

Successful Work From Home Opportunities Reduce Stress and Anxiety
Workers who have zero commute tend to be much calmer and happier than those who travel to work each day. The U.K.'s Office of National Statistics found that folks who commute a half hour each way saw a significant spike in anxiety levels, uneasiness, and mood swings. So, instead of trying to get creative about ways to enjoy your drive to work, why not eliminate it completely? Operating a small business from home may have its own challenges, but at least you won't feel like you're about to have a panic attack on your way to or from work.
NO.5:

Successful Work from Home Businesses Keeps Your Cholesterol Down
High cholesterol is a major warning sign of heart disease, so when the experts found that long drives to work can increase cholesterol levels, they started promoting work from home opportunities. Driving just ten to fifteen minutes a day can do significant damage to your cardiovascular health, not to mention it can stress you out and increase your cortisol levels by a measurable margin. Working from home keeps your stress and cholesterol down, plus it can help you eat better throughout the day.
NO.6:

Business Franchise Options Define Your Own Earning Potential
Working for a traditional business can put restrictive caps on your yearly earnings. However, running your own homebased business or managing a franchise can put the power back in your hands. You can make your own schedule and, in some cases, even set your own prices. Furthermore, you're able to decide what kind of work and how much of it you do, which not only helps increase your earning potential but also decreases financial strain.
NO.7:

Successful At Home Businesses Prevent and Reduce Higher Blood Pressure and Promote A Stress Free Workspace
There's just something about traveling to work that gives people high blood pressure. In fact, the University of Utah conducted an experiment wherein its participants engaged in a simulated commute. They were told that they had to meet an important deadline and were given a financial incentive to get there on time. Over half the group exhibited measurably higher blood pressure levels, especially those who drove in congested areas. The study also suggested that even people who have a relatively stress-free commute experience heightened blood pressure on a daily basis.
NO.8:

At Home Businesses Improve Your Overall Happiness and Enhance the Quality of Your Life
Numerous studies have supported the fact that people who work from home have a much better quality of life and superior happiness when compared to folks who must clock in somewhere. Especially for those who use public transportation to get to work, general contentment dropped by as much as 20%. Research suggested that the reason for the drop was because commuters felt like they were missing out on important things in their personal lives.
NO.9:

Small At Home Businesses Support Healthy Sleep Patterns
When you don't have to get up early to make a 30 to 60-minute trek into work, you tend to get more sleep. You also tend to sleep better at night and feel more rested in the morning. Although long commutes make most people feel exhausted, that exhaustion is most likely due to a lack of physical activity and mundane or highly stressful environs for large portions of your day.
NO.10:

Small At Home Businesses Decrease The Amount Of Stress You Take On
The demand of being stuck in a car or behind a cubicle all day can take a serious toll on your physical wellness. Commuters are ten times more likely to complain of backaches and neck pain than folks who choose to work from home. Homebased franchises give you the freedom to take frequent breaks or organize your workspace in a way that's more conducive with your body. As a result, home-based professionals have better posture, fewer medical problems, and increased productivity.
This article was written for Grand Teton Professionals for Funding CEO. For Credit Repair Solutions and Support, please CONTACT US at 203-405-5629 or  EMAIL US at [email protected]. For Media Relations, please Contact: [email protected].
KWs: start home based credit repair business, successful work from home businesses, referral programs that work, small at home business, successful home business, franchise options, funding broker
Secondary KW Themes: best franchise opportunities, franchise for less than 50k, startup credit repair business, credit restoration agent, credit repair home business opportunity, jobs you can do from home, legitimate work from home, small business from home